Zimbabwe Catholic Bishops Launch Education Policy
CANAA || By Br. Alfonce Kugwa, Zimbabwe || 16 October 2017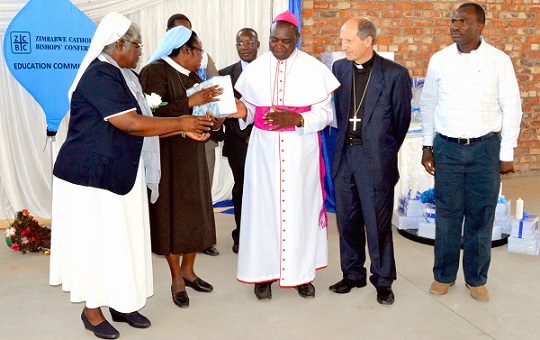 The Education Commission of the Zimbabwe Catholic Bishops' Conference recently launched the Education policy and Catholic Ethos booklet in Harare. The launch was officiated by Bishop Rudolf Nyandoro of the Diocese of Gokwe in the company of Mutare Diocese Bishop, Paul Horan. Bishop Nyandoro is also the Bishop-in-charge of the Conference's Education Commission.
The event was held at the country's Catholic University, (last) week. Diocesan Coordinators of Education, Catholic schools' administrators, Ministry of Education officials and students thronged the Catholic University complex to celebrate the launch of the policy booklets that will guide Catholic education in the country. 
Addressing the gathering, the Bishop-in-charge of the Education Commission, Rudolf Nyandoro pointed out that Catholic education was centred on Jesus Christ who is the best teacher.
He said: "At the heart of Catholic education is Jesus Christ and everything that happens in Catholic institutions of education is aimed at holistically developing faculties of the body, the mind, and soul. Thus, all learners who pass through Catholic institutions are equipped with skills that enable them to contribute to society."
Bishop Nyandoro further stressed the need to emphasise spiritual and moral values in education as they form the backbone of individual behaviour.
"The Catholic church educates for life and not only for academic success. The thrust of our institutions is to groom good and God-fearing leaders and citizens who contribute to the development of sustainable livelihoods. The success of any nation rests upon the quality of education and moral formation of its members. Hence, the Catholic Church in Zimbabwe tries to foster this fundamental value in its education system," stressed Bishop Nyandoro.
Bishop Nyandoro congratulated the Education Commission led by Sr. Theresa Nyadombo, HLMC for putting together the Education Policy and the Catholic Ethos booklets. He said the booklets will go a long way in guiding Christian education and instilling Catholic Ethos in all Church-run institutions.
 In a homily before the launch, Fr. Fanuel Magwidi said Catholic ethos and the manner in which the Catholic Church present Jesus Christ to the people encourages responsible parents to send their children to the church's institutions of education.
"Parents would not bring children to Catholic institutions only for academic excellence but to have them formed socially, morally and spiritually to be citizens of repute. The idea is that parents want their children to be near Christ," said Fr. Magwidi quoting Aristotle who observed that 'educating the mind without educating the heart is no education at all.'
The Catholic Church in Zimbabwe proudly owns 112 primary schools, 110 secondary schools and 18 tertiary and skills training centres that are distributed around the country's eight dioceses.