Kenya and Regional Conference of Catholic Bishops Discuss Financial Sustainability at Annual Conference
Waumini Communications (KCCB) || Waumini News Today || 01 September 2017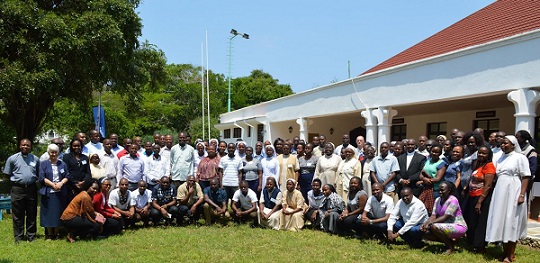 The Kenya Conference of Catholic Bishops (KCCB) in conjunction with the Association of Member Episcopal Conferences in Eastern African (AMECEA) recently concluded their annual accountancy conference, which brought together 102 Finance Administrators, Accountants, and Bursars from Catholic Dioceses, Congregations, and Institutions in Kenya.
The weeklong Conference started on 28 August and ended on Friday, September 1. It took place at at Kaskazi Hotel in the coastal town of Mombasa.
This year's theme was "Financial Sustainability in the Catholic Church in line with the Emerging Economic issues.'' In his opening remarks, the KCCB -Finance Commission, Bishop James Maria Wainaina welcomed all to the conference and thanked the organisers for taking time to organise the meeting despite the political climate.
Bishop Wainaina called upon participants to be good stewards by noting that the world today is looking for men and women who can stand out as better stewards. 
"This is because the social reality is such that to be a better steward, you must overcome great challenges of corruption and misuse of funds. This is more pronounced where the financial system is weak. Moreover, the classical challenge of unlimited financial needs against limited financial resources makes financial decision making difficult," he said
The Bishop expressed concern that the Church is living in a new reality characterised by reducing donor funding, increasing expectations from the Church and increasing demands by regulators such as on matters of taxation.  Many Church institutions have since embraced property development as one way of becoming financially sustainable, but this has brought about challenges such as cost of borrowing, more enlightened tenants, payment of VAT and so on.
Rt. Rev. Wainaina said the accountant in such a situation becomes the representative of the owners in ensuring there is a good return on investment, the property taxes are paid on time and that the property is properly maintained.