Nigeria's Ahiara Diocese: A Theological Appeal for a Time to Heal
Catholic News Service of Nigeria (CNSN) || By Father Stan Chu Ilo || 12 July 2017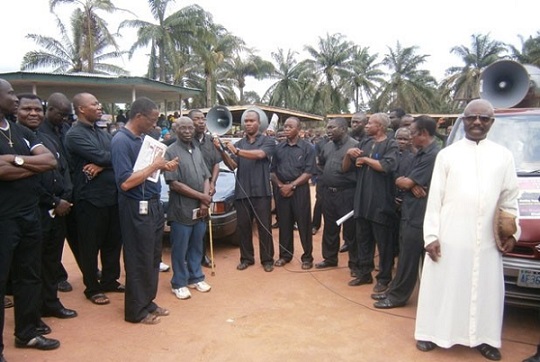 "But in what sense is the Church holy if we see that the historical Church, on her long journey through the centuries, has had so many difficulties, problems, dark moments? How can a Church consisting of human beings, of sinners, be holy? Sinful men, sinful women, sinful priests, sinful sisters, sinful bishops, sinful cardinals, a sinful pope be holy?…..The Church is holy because she comes from God, who is holy; he is faithful to her and does not abandon her to the power of death and evil (see Matt 16:18). She is holy because Jesus Christ, the Holy One of God (cf. Mark 1: 24), is indissolubly united to her (see Matt. 28: 20). She is holy because she is guided by the Holy Spirit who purifies, transforms, and renews." (Pope Francis, General Audience 2 October, 2013).
"The Spirit did not come simply in order to animate an institution that was already fully determined in all its structures. In fact, the Spirit is really 'the co-instituting principle' of the church. Accountability to Christ and his Spirit requires both a fidelity to the Apostolic tradition and openness to the witness of the Spirit in the church today, including the spirit-breathed witness of all God's people reflected in the exercise of the sensus fidei. Faithful obedience to Christ will be manifested in practices of communal discernment that listen for the voice of the spirit speaking through a faith-filled people. When all in the church come to discover the dignity and demands of their baptism and the concrete shape of discipleship in service of the Spirit's promptings, accountability becomes simply another word for koinonia, our 'shared communion' in Christ." (Richard, Gaillardetz commenting on Yves Congar's essay on power, authority and obedience in the church, A Church with Open Doors, 110).
Preliminary Considerations
"Fr Stan, what is happening in the Catholic Church in your country?" This is the question many people have been posing to me through phone calls, emails and face to face encounter here at DePaul University, Chicago, where I teach, and in the two parishes where I minister on Sundays. The entire global Catholic family has now heard about the situation in Ahiara diocese and everyone is asking the question: 'What is going on?' 'Why is the gentle and merciful Pope Francis taking such a harsh and hard disciplinary measure to suspend any priest of Ahiara diocese who does not apologize to him and pledge obedience to him before July 9, 2017?"
This Pope is slow to use authoritarian practices or threats in order to enlist obedience. This is a Pope who rarely appeals to papal authority, prerogatives and power in order to build communion and co-operation in the church. He is a Pope of mercy and dialogue, who has proposed that the church adopt pastoral discernment, the logic of integration and the logic of mercy in order to accompany (walk with) God's people into a deeper communion with God, the church, the world and nature.
Sources at the Vatican noted that Pope Francis was visibly sad, deeply troubled and perplexed by the failure of the delegates he invited from Ahiara to honor his invitation. This is especially painful because the Pope himself had to shelve his other appointments for that day, cutting down his time with Venezuelan bishops—whose country is going through a very difficult political crisis—in order to spend time with the delegates from Ahiara. The Pope had no other option than to invoke the law of the church in order to protect and preserve the treasures which God has given to the church, and the unity of faith and communion.
There has been a 'sacred silence' among the theological community in Nigeria and Africa on this extraordinary papal decree and its bigger implications for the church in Nigeria. I wish to break this theological silence in my own humble effort in his discourse. This is because I believe that theology must give account of the faith of the church, the actual faith of the people and how these come together in shaping the daily choices of the people with regard to realizing the will of God in history. This accountability is the mediating role which theology plays in judging how faith and culture interact in making manifest or blurring the footprints of God in history.
This short theological reflection is, therefore, my humble and imperfect effort to give a theological account of what I consider the key issues in this situation, how the Holy Father's wishes for Ahiara diocese could be realized, and finally a Marian spiritual reflection which could guide the renewal of the priestly and episcopal ministries in Nigeria. I have organized this theological discourse into five broad sections, namely: (i) Lord, why did you allow this to Happen? (ii) Why did this happen? (iii) A Time to Cry; (iv) A Time to Pray; (v) A Time to Heal.
1. Lord, why did you allow this to Happen?
Many of our people today see the Christian faith in our country as a kind of battle with God; questioning God, lamenting to God, and crying to God. When you hear our people pray and sometimes in my own spiritual life, prayer is a kind of struggle with God, questing for God on one hand, and getting upset with God and asking God, 'why?' I am sure that if you have been hit like me with deaths, disappointments and despair sometimes in your life, you may have fought with God like Jacob did in the desert (Gen 32: 22-32). This is a time to battle with God in Nigeria. Our people are stretched to the limit. As my mentor, Bishop Kukah said recently, Nigerians are unhinged, and I will add that many people are fighting with God internally asking the simple question: Lord, why is this (x..y..z) happening to us? The Gospel message tells us that the best way to find answers to our battles or questions with God is to allow God to be God in our lives; to leave a little crack or opening for the gentle breeze of God to come in to make us whole. God can touch us with God's tender mercy and grace in the most intimate and fragile zones of our lives where we are in need of a divine touch and transcendence. The truth is that God alone can make us go beyond ourselves, our problems, our selfish or joyous attachment to who we are, our culture, clan, ethnicity, nation, race etc. All Christian battles, carried out in faith, will normally end with the victory of God if we adopt the spiritual disposition of saying at all times like the Lord Jesus Christ: Lord, may thy will be done. Not what I want but your will O Lord.
The context of this reflection is the 'fight with God' in Nigeria in a metaphoric sense typified in the current fight in Ahiara diocese. There are so many fights going on in Nigeria. Though we see fights in many other parts of the world, the last few years in Nigeria has seen many fights in the country because we do not understand why the situation in our land is so desperate and dark. I am sure too that many of us including the victors and victims; the saints and sinners in the present situation in Ahiara diocese may be asking the same question of God: Why is this happening? What is this all about? God, why did this happen? Why are we fighting each other? What ultimately do we want in this fight which will lead to the realization of God's will and salvation for all?