Non-violence 'at heart of Martin Luther King's message'
The Tablet || By James Roberts || 04 April 2018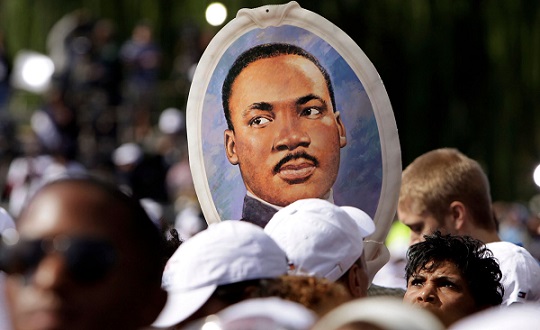 Tributes marking the 50th anniversary of the assassination of Martin Luther King on 4 April 1968 emphasised the civil rights leader's advocacy of non-violent resistance in the fight against racism.
The US Conference of Catholic Bishops' Administrative Committee issued a statement saying: "This anniversary gives us an important moment to draw inspiration from the way in which Dr King remained undeterred in his principle of non-violent resistance, even in the face of years of ridicule, threats and violence for the cause of justice."
The bishops recalled that Dr King came to Memphis – where he was shot while talking with friends on the balcony of the Lorraine Motel – to support underpaid and exploited African-American sanitation workers, and arrived on a plane that was under a bomb threat.
"He felt God had called him to solidarity with his brothers and sisters in need. In his final speech on the night before he died, Dr King openly referenced the many threats against him, and made clear that he would love a long life. But more important to him, he said, was his desire to simply do the will of God."
"No one has greater love than this, to lay down one's life for one's friends," the bishops said, quoting John 15: 13.
"Our faith urges us to be courageous, to risk something of ourselves, in defending the dignity of our neighbour who is made in the image of God," the bishops concluded. "We can best honour Dr Martin Luther King and preserve his legacy by boldly asking God – today and always – to deepen our own commitment to follow his will wherever it leads in the cause of promoting justice."
Archbishop Ivan Jurkovic, Apostolic Nuncio and Permanent Observer of the Holy See to the United Nations in Geneva, spoke to Vatican News about the similarities between Dr King and Pope Francis.
He said the two men share a focus on the importance of non-violence and the need for global solidarity. "Every human development can be achieved only through non-violence. Violence represents new problems and new divisions," Archbishop Jurkovic said.
On the need for solidarity, the nuncio said the Church believes, and Martin Luther King Jr. believed, that "we all belong to one human family and we have to overcome every division, especially those based on racial or social differences."
"The perception is that Pope Francis is one of the few people really, consistently defending human rights … Striving for peace," Archbishop Jurkovic said.
Following Dr King's death, Pope Paul VI at an Angelus address in St Peter's Square expressed his sorrow for the killing "of a Christian prophet for racial integration".
Pope Francis, in his address to the US Congress on 24 September, 2015, said Martin Luther King, Jr.'s "dream" (of racial equality and integration) continues to inspire Christians around the world.
Source: The Tablet…