DR Congo Will Rise again with Christ: Cardinal Monsengwo
Vatican Radio || 19 April 2017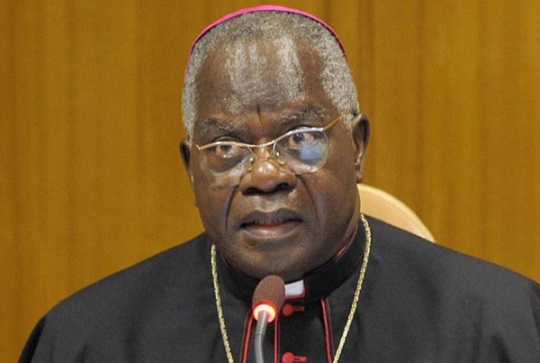 Cardinal Laurent Monsengwo Pasinya has invited his compatriots in the Democratic Republic of Congo (DRC) not yield to discouragement and a spirit of fatalism.
The Cardinal said this at the weekend in a homily read in all parishes of the Archdiocese of Kinshasa on Easter Sunday.
The Archbishop of Kinshasa recalled that the resurrection of Christ gives hope to a new world and humanity. This resurrection also gives men and women of today the possibility of relating to each other and Christ in a new way.
The Cardinal's message of hope comes in the context of serious political and social uncertainties facing the Democratic Republic of the Congo.
"As Congolese people, we can sometimes feel as if we were an insignificant seed of grain thrown on the floor: We are ignored and continually trampled upon. We live in a country and at a time of confusion, obscurity, despair. But we know that in the depths of the night, the dawn is already looming on the horizon. Therefore, to all of you: I wish you Happy Easter. We will rise again with Christ so that the country will take on a new face, in peace, justice, truth and love, in the image of the love of God for us," said Cardinal Monsengwo.
The DRC is experiencing great political turmoil. President Joseph Kabila's mandate ran out on 19 December 2016, but the DRC's constitutional court extended his rule to 2018 because the government said it could not arrange elections before then.
On the eve of the new year 2017, political parties in the DRC signed an agreement with the ruling party of Kabila. The accord called on Kabila to leave power after an election to be held by the end of this year, 2017 instead of mid-2018.
DRC's Catholic Bishops mediated the talks which were aimed at brokering a compromise between opposition political parties and the government of Kabila.
The 2017 New Year's Eve agreement came after months of unrest that left dozens dead and threatened to further destabilise the vast Central African nation with a painful history of dictatorship and civil war. The agreement is yet to be fully implemented.
Meanwhile, insecurity prevails in several parts of the country, and the socio-economic situation of citizens continues to deteriorate.
Perpetrators of the violence in the DRC include dozens of heavily armed groups marauding in areas where the government is non-existent. The militia stoke ethnic rivalries, fight proxy wars and vie for control of the DRC's valuable natural resources.
Illegal mining, smuggling and poaching are rampant.
Source: Vatican Radio…