Dozens of Clergy and Faithful in Ghana Trained in News Writing
CANAA || By Damian Avevor, Ghana || 24 November 2016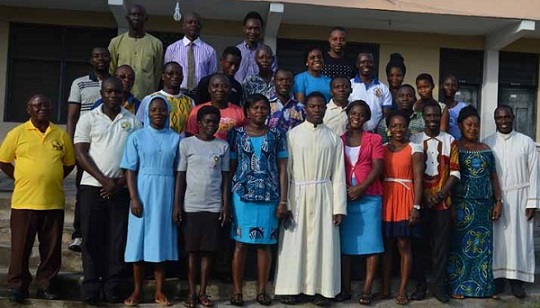 Over 40 Priests, Religious and lay faithful from selected Parishes and Societies ministering in the Catholic diocese of Ho, Ghana, recently received training in news writing during Seminar at the Bishop Holland's Memorial and Pastoral Centre at Sokode-Gbogame.
The two-day training from November 3 to 4, was organized by the Ho Diocesan Communication Directorate, to equip the participants with the skills and techniques in writing stories for the Ho Diocesan Website and the national Catholic daily, The Catholic Standard Newspaper.
Funded by the World Catholic Association for Communications (SIGNIS), it was also to school the participants in the fundamentals of good writing, news packaging, storytelling techniques, news media ethics and the house style of Ghana's weekly newspaper, The Catholic Standard.
The Seminar first of its kind by a Diocesan Communication Office, was facilitated by Mr. Damian Avevor, News Editor of The Catholic Standard and Father Dieu Donne Davor, Executive Secretary of the Department of Social Communications (DEPSOCOM) at the National Catholic Secretariat and the Director of Communications of the Ho Diocese.
Welcoming the participants, Father Davor said the main purpose of the Training was to learn how to tell the Catholic stories in the Diocese through the Church Media, and how to report activities in the various Parishes, Societies and the Diocese as a whole.
He extended the felicitations of Most Rev. Emmanuel Kofi Fianu, Bishop of Ho, to the participants, saying that it was the expectation of the diocese that, after the training, they would have the desire and skills to write regularly on activities in their parishes and societies.
On his part, Mr. Avevor took the participants through the fundamentals of good writing, basics in news writing, types of news, news values, factors that determine newsworthiness, structure of a news story, crafting of news leads, and ethical issues in news writing.
He urged them to always keep their stories short, sweet and straight to the point and ensure that they conveyed as much information and in fewer as possible.
He reminded them that as trainees they were to be the eyes, ears and guide to their parishes, societies and activities of their dioceses, saying, "It is through publications in The Catholic Standard that the Holy Father gets to know activities being embarked by dioceses."
He encouraged the participants to take a leadership role in the family of contributors to The Catholic Standard and keep alive the diocesan website.