CARITAS Ghana Launches Land Grabbing Report
CANAA || By Damian Avevor, Ghana || 25 August 2016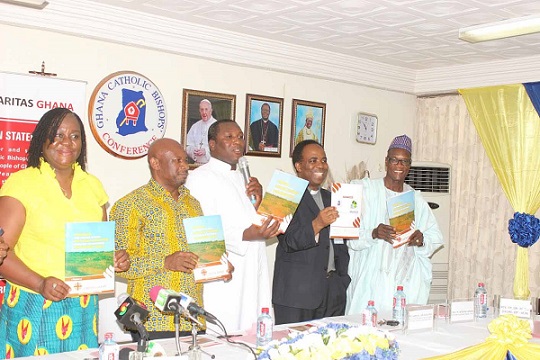 Caritas Ghana, the charity wing of the Ghana Catholic Bishops' Conference, Tuesday, August 23 launched a report on land grabbing in Ghana titled "Unmasking Land Grabbing in Ghana; Restoring Livelihoods; paving the way for Sustainable Development Goals" in view of finding policy and programme solution to the challenge.
Speaking at the National Catholic Secretariat in Accra during the launch, the Executive Secretary of Caritas Ghana, Mr. Samuel Zan Akologo, said that the Ghana Catholic Bishops' Conference (GCBC) has the keen interest and commitment to addressing the issue of land grabbing and land grabbers with the aim of protecting and restoring the livelihoods of rural people, protecting the environment and to save communities from unnecessary strife and conflicts as a result of land grabbing.
"It is our hope that this conversation that we are beginning today would help deepen our understanding on the issues involved to enable the Bishops take actions based on informed position."
Mr. Akologo noted that Caritas Ghana, together with its partners, would also continue to engage in public awareness on the issue saying, "We have the outreach potential to reach every nook and cranny of this country to ensure that no one is left behind."
The report, which covered about six months of research was prepared by Caritas Ghana in collaboration with the Centre for Indigenous Knowledge on Development (CIKOD) and the Africa Faith and Justice Network (AF&JN) with financial support from local and international partners.
The Survey, which also aims at raising the vexing issue of land grab as a national canker, was carried out as a follow-up to some of the recommendations that were adopted at a Continental Conference on Land Grabbing in Nairobi, Kenya last November and an initial case Study carried out in the Volta Region of Ghana, by AF&JN based in Washington DC, USA.
Giving an overview of the report, Mr. Akologo said the opening Chapter of the report reveals how inadequate land management and utilization policies are in Ghana.
Another more recent catalyst to this evil has been urbanization, he added and stated, "The chapter has noted that limited consultation with farmers, communities and households whose livelihoods depend on land, in very important decisions is a serious aberration with consequences for the violation of fundamental human rights."
According to him, Chapter two uses Pope Francis' Encyclical – Laudato Si on the Care of Our Common Home and his other teachings to emphasize the need for dialogue on how we are shaping the future of our planet. 'What kind of world do we want to leave to those who come after us, to children who are now growing up?' (LS160).
In chapter three, the report presents three case studies, which demonstrate how land grabbing is a real threat to lives and livelihoods of especially those already at the margins of society and whose only coping mechanism is through their God-given resource of land.
Chapter four explains the dynamics of land grabbing, which are tactfully driven and controlled by the foreign investors with their ability to exploit loopholes in national legal frameworks and the ignorance of communities.
The potential for corruption, manipulation, threats and intimidation that pave the way for land deals done in surreptitious circumstances, have been explained in this chapter.
He noted, "Our proposals for policy consideration and recommendations, in Chapter Five, begin on the premise of Pope Francis' Encyclical – Laudato Si on the Care for our Common Home."
This last Chapter recognizes that there already exist some policy guidelines and on-going advocacy efforts of other civil society organizations on land grab and or its related issues.
"We see Laudato Si as a framework for collective and collaborative response of Church, State, society and corporate bodies to build consensus in addressing the problem," he added.
At the launch, the Assistant Secretary General of the National Catholic Secretariat, Father Wisdom Larweh, said that the efforts of the Church in Ghana had resonated with Pope Francis' proposals in Chapter five of Laudato Si, which addresses the question of what we can and must do to save mother earth.
Meanwhile, a two-day National Stakeholders' Forum on Land Grabbing has taken place in Accra from August 23- 24, 2016 as part of the launching of the Survey Report.
About sixty stakeholders from Government, Community Actors, Justice and Peace Commissions, Leaders of Faith Base Organisations and media professionals are attending the Forum. The Executive Director of AF&JN, Rev. Fr. Aneidi Okure, OP and some officials of the Justice, Peace and Development Commission of the Symposium of Episcopal Conferences of Africa and Madagascar (SECAM) addressed the Forum.
Land grabbing is generally perceived as large scale land acquisition by either internal or external actors purposely for business interest and displaces their original local owners.