Lesotho's New Cardinal Absent at Consistory in Rome
Vatican Radio || By Fr. Paul Samasumo || 20 November 2016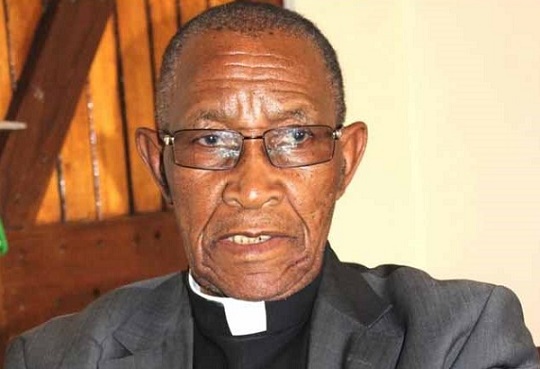 Lesotho's first Cardinal and Bishop emeritus of Mohale's Hoek, Koto Sabastian Khoarai, OMI, elevated to the office of Cardinal Saturday was not able to make the trip to Rome for the consistory due to advanced age and infirmity. He will receive the insignia of his new office by a Papal emissary. Cardinal Khoarai has also been appointed Cardinal-Priest of San Leonardo da Porto Maurizio ad Acilia
Earlier Cardinal Khoarai, who is 87, years old told Lesotho Times reporter Lekhetho Ntsukunyane, "The Lord will help me carry out this task." He also told Lesotho Times that his appointment as Cardinal came as a surprise,
"I was actually caught by surprise. I was not expecting anything like this," the new Cardinal said. As congratulatory messages kept coming through, it was only after Mgr Kevin Randall, the counsellor at the Apostolic Nunciature in Pretoria wrote to congratulate him that he knew for certain about his appointment.
At the time of the interview with Lesotho Times, in October, the Cardinal was looking forward to travelling to Rome for the consistory, but this has not been possible due to ill health.
Cardinal Khoarai had served as Bishop for 36 years when he retired in 2014. Notwithstanding his advanced age, the new Cardinal maintains a fairly active pastoral life. At the time of his appointment as Cardinal, he says he was contemplating to take charge of the stalled construction of St. Patrick's Church in Mohale's Hoek
"The construction of the Church had already started during my tenure, but it stopped due to resource constraints three years ago. It bothers me a lot that I didn't finish what I started, and now there is even a new assignment for me. Even though I am now retired as the Mohale's Hoek Bishop, I still wanted to complete the construction of St Patrick's Church building because I started it," the Cardinal indicated.
The College of Cardinals is divided into three ranks: Cardinal Bishops, Cardinal Priests and Cardinal Deacons. Most of the Cardinals are Bishops even if they are referred to as Cardinal Priests or Cardinal Deacons. The Cardinal Bishops and Cardinal Deacons are members of the Roman Curia, heading departments of the Holy See.
Cardinal Priests are mostly the senior Archbishops of the world who reside in dioceses. Each has the title of an ancient Diocese in Rome. The senior Cardinal Bishop is the 'Dean' or head of the College. The current Dean is the retired Secretary of State, Cardinal Angelo Sodano. The Dean presides at the election of a new Pope. The senior Cardinal Deacon is the Cardinal who announces the newly elected Pope to the world.
Source: Vatican Radio…