UK Plastic Surgeons to Perform Free Operations at Holy Spirit Hospital in Sierra Leone
Vatican Radio || 06 May 2017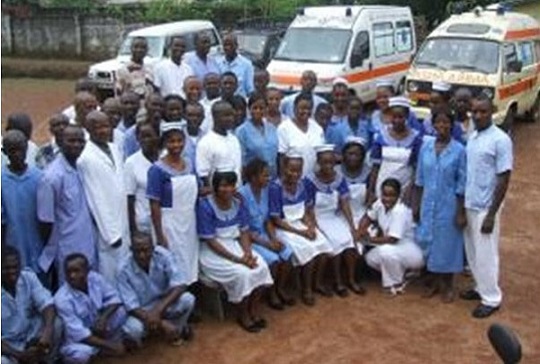 A team of surgeons from the United Kingdom will be performing free reconstructive-plastic surgeries at the Holy Spirit Hospital in Makeni in northern Sierra Leone from 8-13 May. A note from the hospital says the operations will target people with "congenital problems (problems from birth) or acquired problems (injuries from accidents) such as varied burn injuries, post burn contracture, keloid, skin grafting, lipoma," among others.
Holy Spirit Hospital is a well-recognised medical facility in the Northern Region of Sierra Leone. Starting initially in 2002 as a small clinic established by the then Bishop of the Catholic Diocese of Makeni, Most. Rev. Geroge Biguzzi in collaboration with the Diocese of Albano, Italy. It now has admission wards with close to 100 beds, a theatre, a laboratory and a pharmacy.
Holy Spirit Hospital offers the population of Makeni and the surrounding district 3 fully qualified and experienced doctors of medicine, backed up by 60 nursing and supporting staff who treat 300 in-patients and 12,000 out-patients per month.
The hospital welcomes many visitors each year, including many qualified volunteers, who offer mostly free surgeries to patients who could otherwise not afford the care.
The hospital suffered a disastrous fire at the end of last year. The 3rd November 2016 fire engulfed the Molecular Biology & Immunology Laboratory, Physiotherapy Unit and Drug Store.
If you wish to help contact the Medical Director – Dr Patrick E Turay
Address: Masuba Road, Makeni, Sierra Leone, West Africa
Email: info@hsh-makeni.com
Website: www.hsh-makeni.com
Source: Vatican Radio…