OVERVIEW OF STRUCTURE OF SECAM
1) Plenary Assembly
It is the highest body of SECAM and, as such, draws up the major policies and guidelines. It brings together the African Cardinals and Patriarchs, the Presidents and the elected delegates of the member- Episcopal Conferences, the Diocesan Bishops and those equivalent to them in law but are not yet members of and juridically constituted Episcopal Conference, the members of the Standing Committee of SECAM, the African members of the Congregation of the Evangelisation of the Peoples and other members as stipulated in the Statutes of SECAM. The Plenary Assembly is held every three years.
2) Standing Committee
The Standing Committee, consists of the President, two (2) Vice-Presidents (belonging to language groups different from the President's – English, French or Portuguese) and eight (8) members from each of the Episcopal regions of SECAM. Each Regional Episcopal Conference is therefore represented on the Standing Committee. It has a three- year renewable term of office and its function is to direct the affairs of SECAM between Plenary Assemblies. It meets twice a year: (in February and October).
3) The Presidential Council
This Council consists of the President and the two Vice-Presidents of SECAM.
4) The Treasurer
The position of Treasurer is not an elected but an appointed one. It is usually given to a bishop in Ghana, preferably the Archbishop of Accra. The Treasurer is a member of the Standing Committee. He also heads the Finance Board of SECAM.
5). The Secretariat of SECAM
The Secretariat is headed by a Secretary General who is assisted by two deputies. Their main task is to carry out the decisions and policies of SECAM.
The following are the Commissions and offices of SECAM:
i). Evangelisation Commission
This Commission is headed by the First Vice-President of SECAM. The day-today
work of it is carried out by the First Deputy Secretary General of SECAM.
The following offices fall under the department of Evangelisation:
a) The Catholic Biblical Centre for Africa and Madagascar
(BICAM)which encourages and co-ordinates Biblical
Apostolate on the continent.
b) Theological Committee (COMITHEOL): encourages and
co-ordinates theological activities.
c) Pan-African Laity Co-ordination Board: organ of liaison,
co-operation and joint action for the training and formation of
the Laity.
d) Association of Catholic Education for Africa and Madagascar
(ASSECAM,)
2. Justice, Peace, Peace and Development Commission
The Second Vice-President of SECAM heads this Commission. The Second
Deputy Secretary General handles the administrative work of the Commission
It has the following offices:
a) Justice, Peace and Development
b) Good Governance- it studies and appraises the African political, diplomatic and social situations so as to enable SECAM take relevant positions regarding the promotion of Good Governance.
c) HIV/AIDS
3. Social Communications Commission
The Communications Commission has bishop Chairman appointed by the
Standing Committee. The day-to-day work of the Commission is carried out by
its Secretary who is the Director of Communications of SECAM. His role is to
animate, co-ordinate and stimulate Social Communication activities on the
regional and continental levels. The Director of the Commission also works
directly under the President and the Secretary General of SECAM.
Other offices of SECAM are:
a) The Administrative Office which falls under the Secretary General.
b) The Accounts Office is headed by the Treasurer of SECAM
with a full-time Accountant for the day-to-day work of this office. The
Accountant's day-to-day work is supervised by the Secretary General
of SECAM.
Please refer to the organogramme of SECAM for a full list of the Commissions,
Departments, Offices and Committees of SECAM.
Official Languages: English, French, and Portuguese.
Funding:
SECAM is funded mainly through the contributions of member Episcopal
Conferences with levies paid by each diocese. Occasionally, SECAM receives
subsidies and grants from the Evangelization of Peoples, Vatican City and various
religious organizations and Partner Agencies throughout the world.
Efforts are being made to make SECAM self-reliant through projects and raising
funds within Africa for its activities.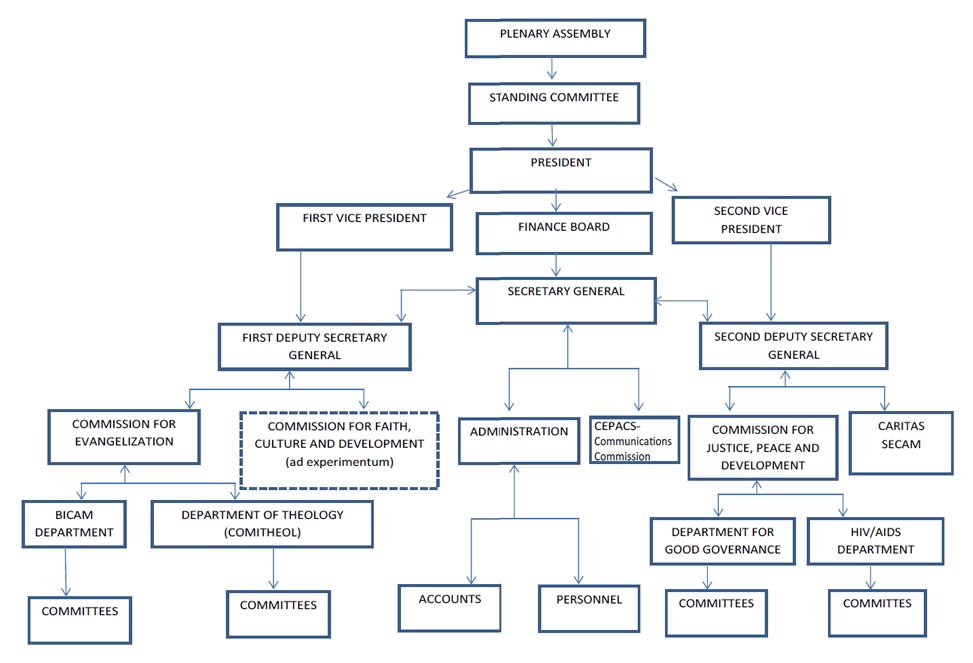 —-
LA STRUCTURE DU SCEAM
1) L'Assemblée Plénière
Il s'agit de l'organe suprême du SCEAM qui élabore les principales politiques
et directives. Elle regroupe les cardinaux et les partriarches Africains, les présidents
et les délégués élus des membres des Conférences Episcopales, les
Evêques diocésains et leurs équivalents sur le plan légal qui ne sont pas encore
des membres de la Conférence Episcopale qui est juridiquement constituée, les
membres du Comité Permanent du SCEAM, les membres Africains de la congrégation
d'évangélisation des peuples et d'autres membres qui sont stipulés,
dans les Statuts du SCEAM. L'Assemblée Plénière se tient chaque trois ans.
2) Le Comité Permanent
Le comité permanent est composé du Président, de deux (2) vice-présidents
(appartenant à des groupes linguistiques qui sont différents de celui du
Président-Anglais, Français ou Portugais) et de huit (08) membres de chacune
des régions Episcopales du SCEAM. Chaque Conférence Régionale est
représentée au sein du Comité Permanent.
Il a un mandat renouvelable de trois ans et a pour fonction de diriger les
affaires du SCEAM entre les Assemblées Plénières. Il se réunit deux fois par an
: (en février et en octobre).
3) Le Conseil Présidentiel
Ce conseil est composé du président et de deux vice-présidents du SCEAM.
4) Le Trésorier
Le poste de Trésorier n'est pas pourvu par élection mais par nomination. Ce
poste est normalement réservé à un évêque au Ghana, de préférence
l'Archevêque d'Accra. Le Trésorier est membre du Comité Permanent. Il est
aussi le chef de la Direction Financière du SCEAM.
5) Le Secrétariat du SCEAM
i)Le secrétariat est dirigé par un secrétaire général qui est assisté par deux
adjoints. Ils ont pour principale tâche d'appliquer les décisions et les politiques
du SCEAM.
Les principales Commissions et bureaux du SCEAM sont les suivants :
1)La Commission pour l'évangélisation
Cette Commission est dirigée par le Premier Vice-Président du SCEAM. Le travail
quotidien du département est réalisé par le 1er Secrétaire Général Adjoint
du SCEAM.
Les bureaux suivants sont sous son contrôle :
a) Le Centre Catholique Biblique pour l'Afrique et le Madagascar
(BICAM) qui encourage et coordonne l'apostolat biblique sur le
continent.
b) Le Comité théologique (COMITHEOL) : encourage et coordonne les
activités théologiques.
c) Le Conseil pan-Africain de coordination des laïcs : un organe
de liaison, de coopération et d'action conjointe de formation des laïcs.
d) L'association de l'éducation catholique pour l'Afrique et le
Madagascar.
2) La Commission de justice, paix et développement
Le Deuxième Vice-Président du SCEAM dirige cette commission. Le 2ème
Secrétaire Général Adjoint s'occupe des fonctions administratives de la commission.
Cette Commission comprend les bureaux suivants :
a) Le bureau de justice, paix et développement
b) Le bureau de la bonne gouvernance -Il étudie et évalue les situations
politiques, diplomatiques et sociales en Afrique pour permettre au
SCEAM d'adopter des positions pertinentes.
c) Le VIH/SIDA
d) Caritas Afrique
3. La Commission de la Communication Sociale
La Commission de la Communication Sociale a pour Président un évêque
nommé par le Comité Permanent. Le travail quotidien de la Commission est à
la charge de son Secrétaire, qui est le Directeur des Communications du
SCEAM. Il a pour rôle d'animer, de coordonner et de stimuler les activités de
communications sociales aux niveaux régional et continental. Le Directeur de
la Commission travaille sous le contrôle direct du Secrétaire Général du
SCEAM.
D'autres bureaux du SCEAM sont :
a) Le bureau d'administration est aussi sous le contrôle du Secrétaire
Général
b) Le bureau de comptabilité dirigé par le trésorier du SCEAM jouit
du service d'un comptable qui effectue à plein temps le travail
quotidien au niveau du bureau. Le travail quotidien du comptable est
sous le contrôle du Secrétaire Général du SCEAM.
Prière de consulter l'organigramme du SCEAM pour une liste complète des
Commissions, Départements, Bureaux et Comités du SCEAM.
Les langues officielles sont : l'Anglais, le Français et le Portugais.
Le financement : le SCEAM est financé surtout à travers les contributions des
membres des Conférences Episcopales par des cotisations qui sont payées par
chaque diocèse. Occasionnellement, le SCEAM reçoit des subsides et des subventions
de diverses organisations religieuses notamment celle de l'évangélisation
des peuples, la Cité du Vatican et des agences partenaires du monde
entier. Des efforts sont en cours pour l'auto-financement du SCEAM à travers
des projets et par la mobilisation de fonds au sein de l'Afrique pour ses activités.
—-
ESTRUTURA DO SCEAM
1) A Assembleia Plenária:
É o órgão supremo do SCEAM e, como tal, estipula as maiores linhas
de orientação e governo. Reúne os Cardeais e Patriarcas africanos e
os delegados eleitos entre os membros das Conferências
Episcopais, dos Bispos Diocesanos e aqueles que por lei são
equiparados a eles enquanto não são ainda juridicamente costituidos
membros das Conferências Episcopais, do Comité
Permanente do SCEAM, membros africanos da Congregação da
Evangelização dos Povos e outros membros confome foi estipulado
nos Estatutos do SCEAM.
A Assembleia Plenária realiza-se de três em três anos.
2) O Comité Permanente
O Comité Permanente é constituido pelo Presidente, por (2) Vice-
Presidentes(pertencentes aos grupos linguísticos diferentes
daquele do Presidente-Francês, Inglês ou Português) e por oito
(08) membros de cada uma das regiões episcopais do SCEAM.
Assim, cada uma das Conferências Episcopais Regionais está representada
no Comité Permanente. Este possui um mandato trienal
renovável e a sua função é dirigir os assuntos do SCEAM entre
as Assembleias Plenárias. E para isso reúne-se duas vezes por ano:
(em Fevereiro e em Outubro).
3) O Concelho Presidencial
Este Concelho é constituido pelo Presidente e pelos dois (02) Vice-
Presidentes do SCEAM.
4) O Tesoureiro
O cargo de Tesoureiro não é ocupado por meio de eleição mas por
nomeação. Fica normalmente reservado a um Bispo em Ghana, de
preferência o Arcebispo de Accra. O Tesoureiro é membro do
Comité Permanente. Ele também é quem encabeceia a Direção
Financeira do SCEAM.
5) O Secretariado do SCEAM
O Secretariado é encabeçado pelo Secretário Geral assistido por
dois Vice-Secretários. A sua função principal é realizar as decisões
e directivas do SCEAM.
As principais Comissões e gabinetes do SCEAM são os seguintes:
i) A Comissão da Evangelização
Esta Comissão é encabeçada pelo primeiro Vice-Presidente do
SCEAM. O seu trabalho quotidiano é realizado pelo primeiro
Vice- Secretário Geral do SCEAM.
Os gabinetes que seguem integram esta Comissão:
a) O Centro Bíblico Católico para a África e
Madagascar
(BICAM) que encoraja e coordena o Apostolado
Bíblico no Continente.
b) O Comité Teológico (COMITEOL): encoraja e coor
dena actividades teológicas.
c) O órgão Pan-Africano de Coordenção do Laicado: é
um órgão de ligação, cooperação e acção conjunta
para a instrução e formação do Laicado.
d) Associação da Educação Católica para a África e
Madagascar (ASSECAM).
ii) A Comissão de Justiça, Paz e Desenvolvimento
O segundo Vice-Presidente do SCEAM encabeça esta Comossão.
O segundo Vice-Secretário Geral executa e administra o trabalho
desta Comissão que possui os seguintes gabinetes:
a) Justiça, Paz , Desenvolvimento
b) Boa Governação-Estuda e avalia as situações
politícas, diplomáticas e sociais africanas assim
como capacita SECAM na tomada de posições
pertinentes.
c) HIV/SIDA
d) Caritas Africa
3. Comissão da Comunicação Social
Esta Comissão tem como seu Presidente um Bispo nomeado pelo
Comité Permanente. O trabalho quotidiano da Comissão está a
cargo do seu Secretário, que é o Diretor das Comunicações do
SCEAM. Ele tem por tarefa de animar, coordenar e estimular as
actividades da comunicação social aos níveis regional e continental.
O Diretor da Comissão trabalha directamente sob a alçada do
Presidente e do Secretário Geral do SCEAM.
Os outros gabinetes do SCEAM são:
a) O Gabinete Admnistrativo que está sob a alçada do
Secretário Geral.
b) O Gabinete da Contabilidade encabeçado pelo
Tesoureiro Episcopal do SCEAM com um con
tabilista que trabalha diariamente no gabinete a
tempo pleno. O trabalho cotidiano do
Contabilista está sob a supervisão do Secretário
Geral do SCEAM.
Favor consultar o organograma do SCEAM para uma lista complete
das Comissões, Departamentos, Gabinetes e Comités do
SCEAM.
Linguas oficiais: Francês, Inglês e Português.
Financiamento: O SCEAM é financiado sobretudo pelas de contribuições
provenientes das dioceses membros das Conferências
Episcopais. Por vezes também recebe oferetas e subsídios da
Congregação para a Evangelização dos Povos e da Cidade do
Vaticano e de várias Organizações religiosas e Parceiros espalhados
pelo mundo inteiro. Esforços estao em curso para dotar o
SCEAM de autonomia através de projetos e para mobilizar fundos
dentro da África para as suas atividades.